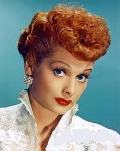 Here's a quote from a lady who was a real role model for women entrepreneurs:
One of the things I learned the hard way was that it doesn't pay to get discouraged. Keeping busy and making optimism a way of life can restore your faith in yourself.

-Lucille Ball
I know sometimes it doesn't feel like it, but you can choose to be happy or not, or to give up or not. You have the power in you to just decide you're not going to let discouraging situations get the better of you.
I'd love to hear your comments on this!