Let me say I'm not a big basketball fan. But you've got to admire Coach John Wooden, who was one of the most revered coaches and was beloved by his former players, among them Kareem Abdul-Jabbar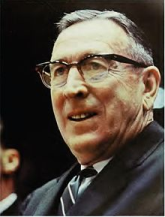 . Wooden was renowned for his short, simple inspirational messages to his players, including his "Pyramid of Success." These often were directed at how to be a success in life as well as in basketball. Here's one I like:
"Do not let what you cannot do interfere with what you can do."
– John Wooden
My takeaway from this is don't let anyone, including yourself, tell you that you can't do something. If you have a dream, go for it (as long as it's legal and doesn't hurt anyone else of course!), even if you think you can't do it.  You just might be surprised at how much you can accomplish. And if it doesn't work out, at least you will have learned something along the way.
As always, I'd love to hear your comments!