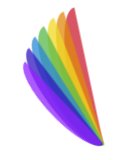 I was asked why I named my company Magic Wing Administration, so I thought it might be fun to write a blog about it.
I started business with the name Creative Virtual Assistant to be very clear about what I did and that since creativity is part of who I am, I bring it to my business too. But this year I felt I needed it to expand to something more broad to express that I'm actually a business partner, not an assistant.
The new name started with the rainbow wing logo I designed to denote a growing, thriving business soaring like a bird, free and beautiful.
The "Magic" part was mainly to honor Walt Disney, who was such an inspiring entrepreneur. Even through the naysayers who said it couldn't be done and risking everything, he persevered to bring his vision to life – creating family entertainment that was like nothing that had been done before. And when you think Walt Disney, of course you think magic.
The "Administration" part describes what I do, providing administrative services to entrepreneurs so they can focus on revenue-generating activities, as well as strategic tips that will help them grow their business.
The name carries a double aspiration for my business. I hope to emulate Walt's entrepreneur savvy to the best of my ability and to learn from his example, thereby creating some magic in my business and allowing it to soar. And  it extends to my passion to help other entrepreneurs create soaring and magic in their business!