An administrative consultant (AC) (a title I prefer to the more commonly known title virtual assistant) performs a variety of administrative services from their own office. According to the International Virtual Assistants Association:
Virtual assistants are independent contractors who (from a remote location, usually their home or office) support multiple clients in a variety of industries by providing administrative, creative, and technical services.
Highly s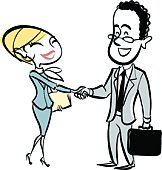 killed and professional ACs are independent contractors who work as collaborative partners to free their clients' time from administrative tasks so the clients can focus on generating income and building their business. ACs often specialize in a certain type of work and/or for clients in certain industries.
ACs are the perfect solution for the "solopreneur" who can't afford or doesn't have enough work to hire a permanent employee, even part-time. You can hire an AC for as much or as little assistance as you need, when you need it. If you have regular recurring tasks or a one-time project,  an AC can take care of that for you. And there is no overhead associated with hiring someone in-house since you don't pay for the insurance and taxes required for employees, or for a location and equipment.
What's in a Name?
There is a trend in the industry to want to get away from the "virtual assistant"  (VA) title since it implies an assistant or employee relationship with clients, and/or because some equate the title with offshore VAs who charge less but don't provide the expertise that highly skilled and professional VAs do. I agree with that, even though virtual assistant is more commonly known and other titles like "administrative consultant" are less familiar to business people. It's our job as ACs to get the word out about who we are and how we can add value to our clients' businesses. I'm making it a mission to do just that, so look for more on this in the future.
What administrative tasks do you have that you would like to have taken care of for you by a dependable professional? I'd love to hear from you.