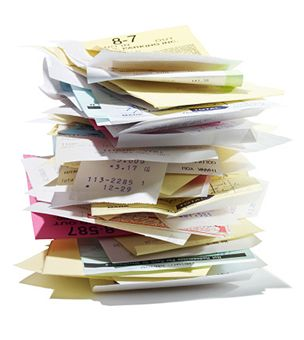 Are you struggling to keep your business receipts in order? Do you have a mad scramble at tax time to back up your expenses? Here's what I do to organize mine:
I have a 3-ring binder with clear dividers with a pocket on each side. The dividers are in assorted vibrant colors just for fun! Each pocket is labeled for one month (so the first divider has January on the front side and February on the back side, and so on). If you have tons of receipts you might want to use single pocket dividers.
I also have an additional divider for my medical expense receipts because I prefer to keep them separate from regular business expenses, since that's a separate item on the tax return. You can add dividers for any other type of receipt for your particular situation that would be helpful to keep you organized.
After you log the expense into your accounting program, file the receipt in the appropriate month's pocket. It's best to just take a few minutes to log your expenses as they occur anyway, and sticking the receipts in the binder after that takes just another couple of seconds.
That's it! When tax time comes around, all your receipts are handy and in order. They're also easy to locate one if you need to return an item or prove purchase.
What problems are you having with organizing your receipts? Or do you have any other tips you'd like to share? I'd love to hear from you.