Looking for an easy free way to edit your photos? I've recently discovered a free online image editor that I'm very pleased to let you know about. (I'm not an affiliate, just thought you might find this program valuable!) It's called Online Image Editor at online-image-editor.com. It's very easy and intuitive to use.
Its purpose isn't to provide images like Canva does; it's designed to edit photos you get from other sources. I prefer to get my images from other sources anyway. One of my favorite sources for free images is freedigitalphotos.net. They're all free with a simple attribution to the author (or you can purchase most images for $3,00 each). So I use Online Image Editor to add the attribution text to the image.
The screenshot below shows the easy to understand interface.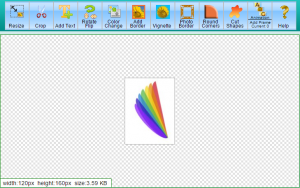 While it's easy to use, Online Image Editor is a very robust program with lots of features. Here are some of the things you can do:
– Resize or Crop
– Add Text – with lots of fonts, colors and effects like shadowing that are easy to apply
– Make a GIF with our online GIF Maker
– Add Borders, or Merge and Overlay your picture
– Put your image in a Picture Frame or add a Mask
– Edit your photo online
– Create round corners on your photos
– Overlay your images with predefined animations
– Convert and sharpen
– Create your own twinkle stars animation
– Add your own glitters to an image
– Make an image shape with the Cut Out Tool
– Create animated GIFs
Please add a comment below if you try Online Image Editor and what your experience with it is! Would also love to know about any other free image editors and/or sources for free images you've used and like.
Deidra Miller
Administrative and Marketing Consultant