This is the second in my series of free tools you can use to save time and effort, which will help you grow your business and make more money. Today I want to let you know about a tool I don't know how I ever lived without before I got it.
Do you have lots of passwords you need to keep track of? Are  you constantly forgetting the password for a particular site? In my business as virtual administrator, I have to keep track of not only my own passwords, but those of my clients as well, since I work on their behalf on their accounts. Saving passwords in an Excel spreadsheet is not only cumbersome, it isn't safe; the file could become corrupted, lost or hacked.
So I investigated a number of free online password saving services and the one I decided on, and am so glad I did, is LastPass.
Signing up and downloading the free software is easy. Then when you are on a new website where you're filling in your ID and password, LastPass asks you if you want to save that information in your "vault." You choose a name for the entry and other properties. Then once it's stored, when you want to go to a site in your list you just click on that entry in your vault.
Since your vault  password is the only one you'll need to remember, you should make it fairly long and include special characters, to decrease the chance of it getting hacked. Your vault contains the list of all other passwords you have entered, and you can make them all different (which makes them much safer from hackers) because you don't have to remember them.
I created a bookmark in my quick access bar so I just have to click on that to launch my vault.
Although the information is stored on their servers, it's encrypted on your computer so the LastPass people don't have access to it, only you do.
LastPass gives you the option of auto-login (it automatically logs you in) or auto-fill (it fills in the information then you click on the Enter link). You still don't need to enter the log-in info, it's just an extra click. I've found some sites' settings don't allow the auto-login, but auto-fill works just fine.
It can also keep track of several log-in credentials for the same site. For example, I update my own Facebook page as well as those of my clients. LastPass lists all the entries I have stored for that site in a dropdown list and I can click on the one I want to use.
One great feature is you can organize the vault entries in folders by category that you create. I have a folder for my clients' sites, for my company sites, personal, social media, etc. There is also always a "Favorites" folder at the top so you can easily access the sites you use most. The screenshot below shows the Social Networking section of my vault so you can see what it looks like (don't worry, no private information is shown!).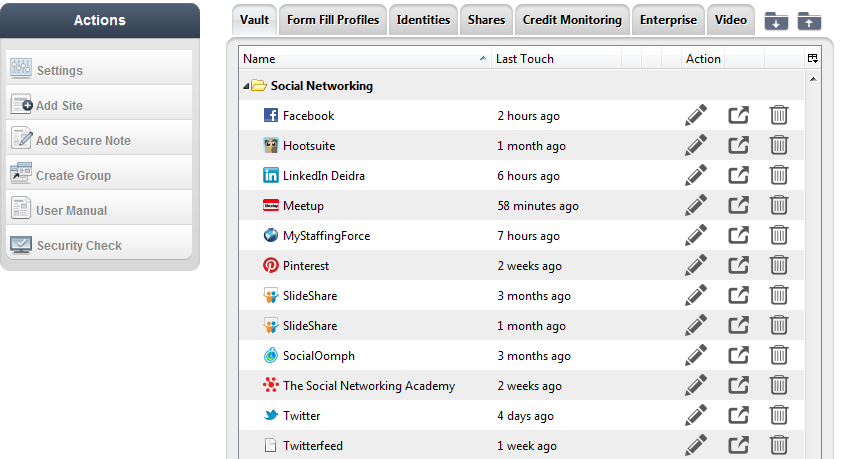 If you need to see or change the information in any entry, you can view and edit any part of the information. Of course, you can always delete any entry as well.
And there is a great search function for finding a particular entry that narrows down the list as you enter information in the search box. You might not think you would have enough that you would need to search, but you might be surprised at how many sites you have passwords for!
Other Useful Features
You can create different identities to keep work and personal data separate, and you can share certain sites with others.
Form-fill lets you fill out one LastPass form that contains all the same kind of information that most shopping sites (for example) require on their forms, and next time you go to that kind of site, LastPass will fill in the form for you!
You can even create secure notes for storing confidential text data.
If you don't use LastPass, I strongly recommend you use some service you like to save your passwords safely. Your life can be turned upside down if someone hacks into your computer and steals all your precious log-in and other confidential data.
Leave a comment about how you do or would use LastPass, or ask me any questions you have about LastPass.