Thank you to guest blogger, Danielle Keister, for this well-written post about how an administrative consultant can help you grow your business by handling the day-to-day administrative tasks while you concentrate on your main money-making activities.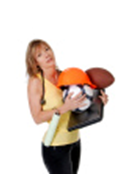 I belong to a multitude of business listservs, forums and networking groups. Very often, I'll see small business owners make posts seeking someone to not only do the work they need help with, but also teach them how to do it as well. And I have to shake my head sadly because that line of thinking will keep them small, keep them from growing their business and have them frittering away all their valuable time.
Look at it like this… When you hire a plumber, do you think you have to learn how to do plumbing as well? When your car needs repair, is it necessary for you to also know how to do the work? When you hire a builder, does it occur to you that you must also know carpentry and architecture and engineering, etc.?
Of course not! You're hiring them because they know how to do something well that you don't. And even if you might happen to know how to do that work, you have better things to do. You are purchasing the convenience of having skilled, qualified, experienced experts spend their time and know-how on those things, not yours.
That's exactly how you should think about working with an Administrative Consultant. You don't need to know how to do every administrative skill, task or project in your business. Let us manage the mechanics and logistics. We are the administrative experts after all! Your time is best spent simply letting us know what you need and what your end-goal is. Your brain space will then be freed for more important thinking and activities.
Lose the "I gotta know how every little thing is done" mindset and I promise you'll see a tremendous difference in your forward business growth. Let your go-to experts get it done for you!
RESOURCE: VACOC Administrative Consultant Directory

About the Author: Danielle Keister is an author, business adviser and innovator in the Administrative Consulting profession. Through her organization, the Virtual Assistant Chamber of Commerce, she is passionate about helping administrative experts grow stronger, more financially successful practices that lead them to greater personal happiness, freedom and client satisfaction. An administrative professional of 25+ years and veteran Administrative Consultant of 14 years, her no-nonsense approach to business development has gained her recognition as one of the leaders in the field.
© Copyright 2011, The Portable Business(TM) and respective authors. All U.S. and International rights reserved.