Ask the Experts Interviews
Simple Ways You Can Change Your Energy
Around Money to Attract More of It to You
Are you happy with how money shows up in your life? If not, you probably have some block in your money energy. Join me and Carma Spence, who  shared some simple things you can do to change your energy around money.
What you will discover:
How the energy of money illuminates our money mindset
Six ways to clear up money clutter
Three habits you can nurture to improve your energy around money
And much more!
Special Offer from Carma
for Ask the Experts Listeners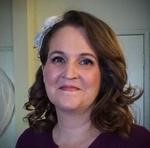 Carma Spence, the Own Your Awesome in Business and Life Coach, empowers entrepreneurial women authors and experts to build creative, authentic and profitable businesses. She guides them in clearing their prosperity blocks, and teaches them how to create a sustainable income leveraging their core talents, as well as increase their visibility in the marketplace through online marketing and public speaking.
An award-winning editor with more than 20 years experience in marketing, public relations and science communication, Carma is a multi-dimensional entrepreneur, science fiction writer and poet. The wind beneath her clients' wings, Carma provides entrepreneurs with expert advice on branding, online presence and the emotional support necessary to carve out their niche for success online.

---
Deidra is owner of Magic Wing Administration, providing administrative consultation analyzing the administrative tasks of her clients' businesses. She works with her clients to determine how they can best create systems to manage those tasks so they have time to focus on the revenue-generating activities they do best to grow their business. One of her focus areas is customer resource management and follow-up.
Deidra is author of the forthcoming ebook "Entrepreneur Strategies: How to Optimize Your Business" and has published several articles with http://www.ezinearticles.com.
Deidra began her career in the corporate world, learning hands-on in various roles reporting to C-level executives – as executive assistant, office manager and project manager. But she decided to leave that path to follow her passion and use the skills she acquired to help entrepreneurs optimize their administrative work.