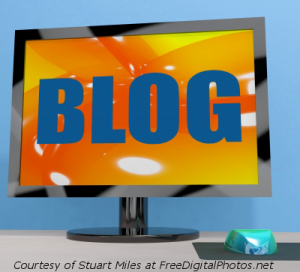 The first step is to getting your blog post seen everywhere is to create valuable content that people will want to read. (See my previous post on How to Write Magnetic Content). Once you have that, don't use just one traffic source to let people know about it; find a system that works for you and follow it every time you create a new post. As you discover what channels work best for your niche, you can always adjust to add new strategies and remove ineffective ones.
What are some ways you can get your blog post seen by as many people as possible?
Share on Social Media
Facebook. Post to your personal page and especially to your business page. (And if you don't have a business page, you should!) Post to  groups relevant to your blog topic and/or your business.
Twitter. Post at least four tweets about the blog post with a link back to your blog post. People aren't on Twitter all day, so I recommend using Hootsuite where you can schedule them all at once for different times of the day.  This makes sure you will get more exposure to your post on Twitter as the day goes on. You can also schedule 2 or 3 tweets for older blog posts at the same time to ensure steady traffic continues to your older, but still relevant, blog posts.
LinkedIn. Post to your wall as well as to any of your groups that would find the content valuable.
Pinterest. I highly recommend including an image with your blog post. People respond to blogs that have images much more than those with just text. You can then use that image to post to your Pinterest page with a link to your blog post. You can also use that image with a quote from the post and then share the image on all of your social media channels.
Mail to Your List
Your blog can help you grow your list. When you've shared your blog on social media and attracted visitors to your website, you can offer some valuable free content in exchange for their giving you their email. You can then email to your list whenever you create a new post and bring past readers right back to your site. For a free email marketing service solution, I recommend using MailChimp.
Partner with Joint Venture Partners
Establish a relationship with a colleague whose business complements yours (but is not a competitor) and work with them to exchange promotions on each other's blog. You can promote their latest blog and they can promote yours.
What are other ways you have found to get traffic to your blog? I'd love to hear from you!

About the Author
Deidra Miller is the founder of Magic Wing Administration, providing strategic marketing and administrative consulting to entrepreneurs and small business owners. She works with her clients in a collaborative relationship to determine how they can best establish systems to optimize their business and enhance customer relationships.
She began her career in the corporate world, learning hands-on in various roles reporting to C-level executives – as executive assistant, office manager and project manager. But she left that path to follow her passion to help entrepreneurs create a business they love!
Deidra is finalizing her new ebook Entrepreneur Strategies: How to Optimize Your Business and has published several articles on business strategies.