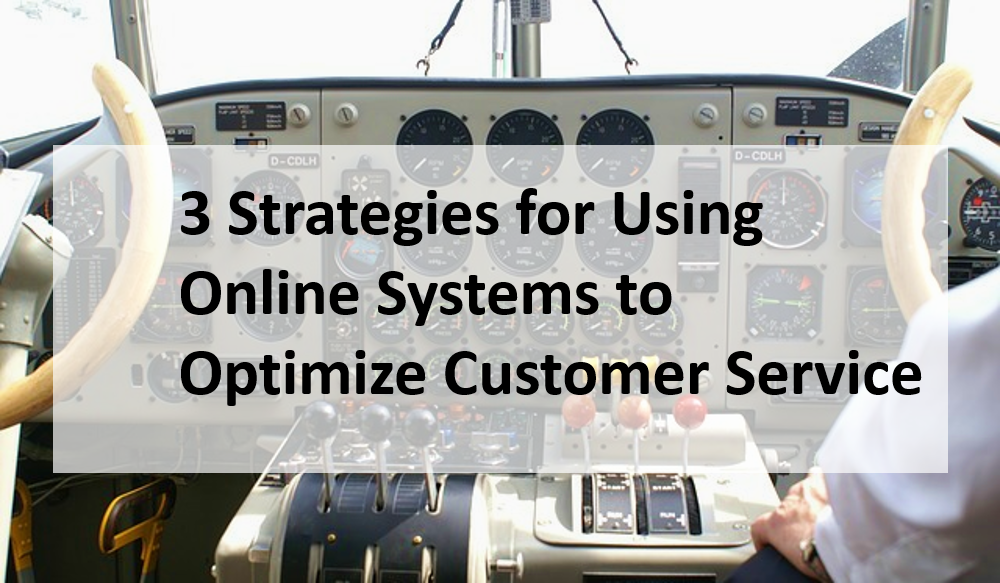 Pilots have specific documented systems for every step of each flight to make sure they achieve their goal of reaching their destination safely. It is crucial that every business use systems too to keep their business flying and achieve their success goals.
There are of course many customer service systems that can be implemented. In this blog, let's focus on 3 top ways to leverage online systems that can save you time and money.
1. Customer Relationship Management (CRM) System
 A CRM is a must for keeping your contact data organized. You have one place to store all the information for each contact, attach documents, make notes, schedule tasks and phone calls, etc. You can also create reminders within your CRM system, and/or put them in your online calendar. CRMs have much more functionality than trying to keep your contact data in your email service or an Excel spreadsheet.
CRMs offer many options and price levels (including free versions) so you want to do your research and choose the one that is best for your needs and budget (I can help you with this).
Tip: I strongly suggest putting new contacts into your CRM as soon as you can. They won't do any good stuck in a drawer; they won't make you any money or help you grow your business.
A client of mine was keeping all his cards spread out on his desk or in a drawer, and when he wanted to find one, he had to search all over his desk, wasting time, or worse, couldn't find it at all! So we set him up with a CRM. And yes, he had to take time initially to go through all his cards and determine where he met them (because he wanted that information included in his CRM). But once he'd done that, he handed them over to me to scan and put them in his CRM. Now he can find customer information easily, create reminders, make notes about discussions/tasks, etc. He now gives me new cards regularly so he always has the latest info. He's very happy with that level of organization and eliminating the wasted time.
2. Email Marketing Service
As with your contact data, you don't want to use your email service (Outlook, Gmail, what have you) for sending emails to your list. Email services of course are essential for corresponding with individuals, but for large emailing you need to use an email marketing service designed for emailing to large numbers – they have systems in place to automate the work and avoid spam problems.
Email marketing services range from free versions such as MailChimp and Benchmark, to middle of the road solutions such as AWeber, ConstantContact and iContact, to higher end all-in one programs with CRM, email marketing and ecommerce functions, such as Ontraport and Infusionsoft (I can help you research these also!).
Almost all have tiered pricing depending on number of contacts and features. They also have autoresponders for scheduling a series of emails – great for keeping in touch with your list! And you can save templates for newsletters and other items you send out regularly – a great time saver system! You can create different main lists as well as segments to target specific members on the list.
3. Templates for Frequently Asked Questions
Include a comprehensive FAQ page on your website where visitors can easily find important information they're looking for.
I also recommend creating email templates for questions you often get asked or that you find you're telling people often. All you have to do is copy and paste, and tweak for the particular situation. You don't have to start from scratch each time.

Add your comments below about how you use online systems to optimize your customer service strategy.
Deidra Miller
Administrative and Marketing Consultant