I'm pleased to present a guest blog by Donna Toothaker, a highly sought after virtual administrator coach. Much of what she teaches applies to all entrepreneurs who have clients so I thought this article would be helpful to all my readers.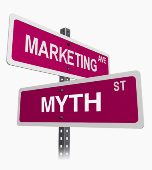 When you think about marketing your business, are you excited and energized, or do you feel a sense of impending doom? Many business owners know they need to do marketing, yet the thought of promoting themselves can be uncomfortable… and even scary.
If you're ready to do more marketing in your business, but don't have a lot of experience, there are a few things that will make it more comfortable and effective. In addition, for business owners who've tried many marketing methods, yet haven't had great results, there is change in mindset that can make it easier.
Here are some of the marketing myths that may be holding you back. If you buy into any of these ideas, kick them to the curb right now:
If I talk about my business I'm bragging.
People are going to be upset or offended if I contact them.
I don't know enough about marketing.
I don't want to bother people with an email or phone call.
I am afraid I'll look silly.
I don't want to be seen as a pushy salesperson.
I am too busy to do any marketing.
I'm afraid someone will think I'm a phony.
I don't want to seem like a "know it all."
I don't know if I'm good enough!
All these myths have one thing in common: they're focused on your concerns, rather than the concerns of the client. It's hard to market this way because everything is personal and you're in a vulnerable state of mind.
Instead, when you think about marketing, it works better if the client concerns and needs are what motivate you. This shift from marketing being about "you" (promoting) to it being about "them"(sharing what you have to offer with prospects) is a powerful one. When this mindset is changed, it becomes a lot easier and more comfortable to market and promote your business.
Consider what would happen if these negative ideas about marketing were turned on their heads. Here are few things to keep in mind in this process:
Marketing is a good thing. Marketing will grow your business, help you keep in touch with clients, and show you have the right stuff. Plus, people need your help out there! As a virtual professional this is the best time in history to market and take on clients remotely. So, it's time to drop the notion that marketing is sleazy or negative. It's necessary if you want to attract new business.
Read the rest of this article on Donna's blog, and don't forget to leave your comments here and on Donna's site!

Donna Toothaker is CEO, founder and coach of Step It UP VA Coaching and the creator of the 6 Steps to 6-Figure VA Success System. These highly sought-after VA coaching programs have been created for established, successful VAs who wish to now create the 6-figure business of their dreams. Visit http://www.stepitupva.com for a free report, The Top 3 Mistakes to Avoid in Creating a 6-Figure VA Business.